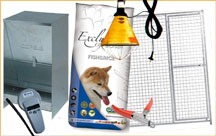 We have equipment and facilities adapted with the well-being of our loyal colleagues in mind. Over the years, we have realized how important and necessary it is to have from a small accessory to a large chenil. In a continuous change and improvement process, we have all kinds of materials susceptible of being necessary in the daily work, from the most insignificant nail clippers to slats, infrared lamps, chip readers, adapted vehicles, animal health products, cages, parks, boxes modular, medicine cabinet, etc.
As for our facilities, they have been designed with the best physical and psychological condition in mind for our dogs. With a design that seeks to give a certain degree of rusticity, it integrates perfectly with the landscape, in a natural space of thousands of square meters and dozens of almond and fruit trees. The facilities are divided into several areas, consisting mainly of the stay areas, the quarantine area and the nursing area.
The most important area and that they occupy most of the time is the area of ​​stays. It consists of a community area, an individual outdoor area and a covered area. Dogs are social animals, which establish a hierarchy, play with their counterparts or simply enjoy sunbathing. For this purpose they have different common areas where dogs can express themselves freely and naturally. With full visibility, dogs can see everything that happens around them, smells, noises, etc ... which prevents sadness, boredom, depression and compulsive behaviors.